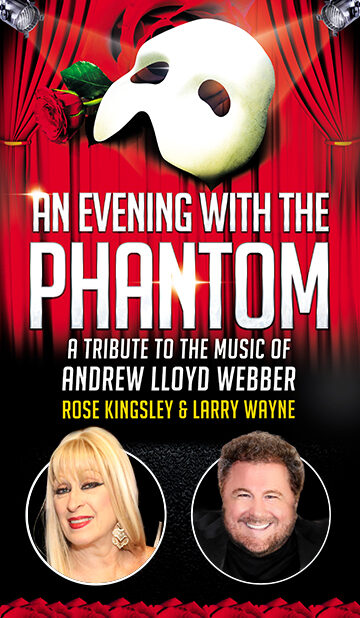 About
"An Evening with The Phantom: A Tribute to the Music of Andrew Lloyd Webber"
Join us for a mesmerizing evening of music and magic as we pay homage to the legendary composer, Andrew Lloyd Webber. "An Evening with The Phantom" is a captivating journey through the enchanting melodies of Webber's most iconic shows, brought to life by two exceptional artists.
In the first half of the show, revel in the melodies from beloved Webber classics such as "Evita," "Cats," "Jesus Christ Superstar," "Sunset Blvd," "Love Never Dies," "Aspects of Love," and "Joseph and the Amazing Technicolor Dreamcoat." You'll be transported to the heart of each musical, reliving the moments that have left an indelible mark on Broadway history.
The second half of the evening is a tribute to Andrew Lloyd Webber's crowning achievement, "The Phantom of the Opera," which has graced the Broadway stage for an astounding 35 years. Prepare to be entranced by the hauntingly beautiful music and the timeless tale of love and obsession.
Our extraordinary performers, Rose Kingsley and Larry Wayne, are true luminaries of the stage. Rose Kingsley's vocal prowess has earned her acclaim on both Broadway and the international opera stage, captivating audiences that include U.S. Presidents and royalty. Currently, she is making waves with her recording endeavors at the legendary Capitol Records.
Larry Wayne, a seasoned performer with over 1700 productions of "Phantom of the Opera" under his belt, has enchanted audiences on Broadway, across the globe, and at the prestigious Venetian in Las Vegas. His dedication to the craft and his ability to transport audiences into the world of musical theater have made him a celebrated name in the industry.
Don't miss this unique and spellbinding show that has garnered rave reviews throughout the United States. Join us for "An Evening with The Phantom" and experience the magic of Andrew Lloyd Webber's timeless music, brought to life by the extraordinary talents of Rose Kingsley and Larry Wayne.
See All Future Dates