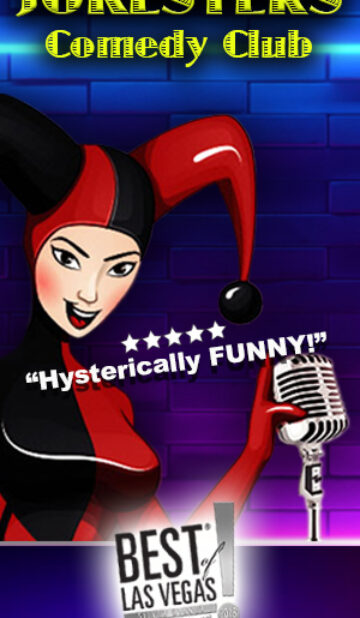 English

Don Barnhart

18+

Pegasus

99.95
About
Jokesters Comedy Club, winner of the "Best of Las Vegas Comedy Club" Award features live, professional, standup comedy in the heart of Las Vegas.
We're proud to feature some of the most hysterical, national touring comedians along with our rotating cast of resident headliners along with some of the best local up and coming comedy talent in Las Vegas.
Jokesters Comedy Club features comedians from around the world and many that you may have seen on Comedy Central, HBO, Dry Bar Comedy, The Tonight Show, Conan, Late Night, BET, Showtime, Netflix, The Bob & Tom Show, Howard Stern, YouTube, Amazon and more.
Jokesters is a proud sponsor of Battle Comics as many of our comedians are dedicated to entertaining the troops around the world.  If you're looking for late night laughs, then you've come to the right place.
At our comedy club, we allow our comedians the freedom to use their gift of humor to shine light on subjects that might be too sensitive for the easily offended. It's not about being dirty, but about taking on subjects we need and should be talking about.  All are welcome but remember, this is a Comedy Club so leave your inhibitions at the door, stop taking life so seriously and let's enjoy some laughter at the absurdity of life.
"If you're easily offended or have an agenda, you're really missing the point of going to a comedy club and should probably stay at home", says comedian Don Barnhart about his new "Unapologetically Funny" Comedy Tour.
See All Future Dates