The Modern Showrooms Playhouse - Coming October 2023
The Playhouse Series at the Modern Showrooms is a unique and innovative theatrical concept housed in a classic-style Las Vegas theater. The venue combines the timeless charm of a traditional playhouse with modern amenities to create an ideal space for showcasing, testing, and workshopping potential future resident shows.
The primary mission of the Playhouse Series is to provide a platform for aspiring or veteran producers, playwrights, and creative teams to showcase theatrical and musical works in front of a live audience. It serves as a vital stepping stone in the development process of these productions, allowing them to refine and fine-tune their shows based on real-time audience feedback.
The Playhouse Series typically offers one-night-only performances of these potential resident shows. This format allows producers and creative teams to gauge audience reactions, identify strengths and weaknesses, and make necessary adjustments before pursuing longer runs or full productions. These are not new or raw productions, many of these shows have been seen by audiences before, but now with an eye toward making them resident shows.
Audience engagement is a key component of the Playhouse Series. After each performance, there may be opportunities for post-show discussions or Q&A sessions, where the audience can provide valuable feedback and insights to the creative teams. This interactive element fosters a sense of collaboration between artists and their potential future audience.
The Playhouse Series will be known for its commitment to showcasing a diverse range of theatrical genres and styles. This inclusivity allows for a broad spectrum of artists and productions to be considered for future residency in a theater setting.
Upcoming Playhouse Performances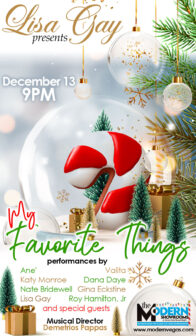 My "Favorite Things" showcases "Christmas Joy" and  Singing by fantastic Artists ...
Want to Participate in the Playhouse Series?