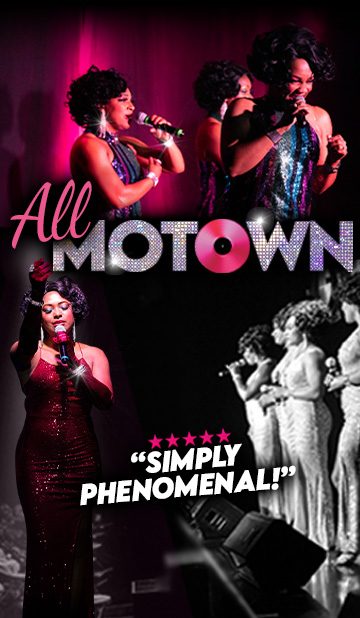 English

Tonja Jones

Peter Housley

All Ages

Athena

$99.95
About
Merry Motown! Thanksgiving – New Year's Day

All of your favorite Motown songs with a few classic holiday tunes mixed in… it's the perfect blend to get you dancing and in the holiday spirit.
---
All Motown featuring the Duchesses of Motown Live in Las Vegas!
The Magic of Motown is alive and well in Las Vegas as nightly, The Duchesses of Motown take the stage, live in a show filled with all your favorite Motown hits from yesteryear.  Get ready to get up, dance, scream and shout, and sing along to hits from female artists like The Marvelettes, Gladys Knight, Mary Wilson, Martha and the Vandellas, Mary Wells, and The Supremes; but the Duchesses have their own unique take on platinum records from the men of Motown too including The Temptations, Smokey Robinson, Stevie Wonder, and even The Jackson 5.
The Duchesses of Motown's classic renditions of Motown hits bring back memories of the music that defined a generation and are still popular today.  You'll hear classics including "My Guy," high-energy songs such as "Heatwave," and of course romantic ballads like "Ooo Baby Baby".  From "Don't Mess with Bill" to "Ain't No Mountain High Enough," you will find yourself waving your arms back and forth and singing along to the music in a trip down memory lane.
"Come for the dresses!" exclaimed a guest leaving the show recently, and she is so right. There are so many costume changes the dressing room is like a tornado.  The retro-inspired costuming is second to none for any Motown revue.  From short and sexy to long and sultry, the show is filled with glitter and sparkle.
Performing live on a stage built specifically for this show, the Athena Showlounge is equipped with state-of-the-art sound and light systems — and arguably some of the comfiest seating in any Las Vegas showroom in a lounge style harkening back to classic intimate venues.  On stage you might note an original 1968 Seeburg LS1 "Spectra" jukebox and a set of three 1960's retro Mole Richardson movie lights, exact duplicates of the lights used in famous Supremes publicity photo.
All Motown featuring The Duchesses of Motown is a unique, must-see show in Las Vegas — but be warned to wear your dancing shoes and warm up your vocal cords.


Recent Reviews
| Date | Rating | Comments |
| --- | --- | --- |
| November 21, 2023 5:32 pm | | |
| November 21, 2023 5:21 am | | This venue is a hidden gem just off the strip. The All Motown show was very entertaining. The performance was fantastic, the music was fabulous, and the show is full of great talent. We enjoyed the quaint atmosphere, making the audience feel a part of the show. The seating is very comfortable and the table service for drinks is a great benefit. |
| November 21, 2023 5:14 am | | |
| November 16, 2023 2:39 pm | | The entire show was outstanding! |
| | | The show was fantastic, and the ladies can sing like beautiful exotic birds! |
See All Future Dates