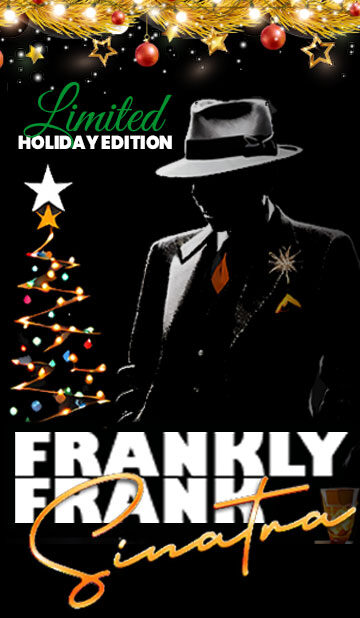 English

Pete Housley

All Ages

Pegasus

$99.95
About
Frankly, Frank
Merry Frankmas – Thanksgiving through New Year's Day

All your favorite Sinatra hits with some of Frank Sinatra's most famous holiday tunes mixed in to get you in the holiday spirit.
An Intimate Tribute to Sinatra The Man and the Music
While Frank Sinatra performed his first gig at the Desert Inn in Las Vegas in September 1951, it was at the Sands Hotel and Casino where Sinatra and his infamous Rat Pack would become true headliners. Sinatra and Las Vegas are forever connected, and because of that bond, Las Vegas has continued to evolve as the world's entertainment capital.  Since Frank died in 1998 and even before, there have been many tributes and impersonators to both the Rat Pack and Frank who played the music, but to truly understand the music, you need to know the heart and soul of the man behind the music.
Frankly Frank is an intimate Frank Sinatra tribute to both the music and the man, featuring many of Frank's top hits with some lesser-known tracks.  You will find yourself transported back to an era when entertainment was king in Las Vegas,
when people wore tuxedos to gamble, everything was hip and cool. Here are just some of the hits that are featured in the show:
---
Frank Sinatra & The Rat Pack
The Pack were singers and actors Frank Sinatra (1915-1998), Dean Martin (1917-1995), Sammy Davis Jr. (1925-1990), British actor and brother-in-law to President John F. Kennedy, Peter Lawford (1923-1984), and comedian Joey Bishop (1918-2007). At the level of their allure in the principal half of the 1960s, 34,000 individuals descended upon the Sands Inn and Gambling club in Las Vegas through their four-week season to take in their strut, jokes and brotherhood.
The Rat Pack, themselves, preferred to be called 'the Clan' or 'the Summit'.
How the "Rat Pack" name came into existence is part of the myth. In Rat Pack Confidential, author Shawn Levy writes that the group was christened when Lauren Bacall said they looked "like a goddamn rat pack." The first version of the group often met at Humphrey Bogart's residence. It included, along with the hosts and Sinatra, the Hollywood elite such as Judy Garland, David Niven, Ava Gardner,  Elizabeth Taylor, Robert Mitchum, Katharine Hepburn, and Spencer Tracy.
In any case, it was the Copa Room at the Sands that turned into their base and where they should have been visible at their swinging best. In the mid-1960s, when one individual from the gathering – normally Sinatra, Martin, or Davis Jr. – was featured, there was a high likelihood that some or all of the others would appear unannounced and participate in the presentation, adding to the fervor and drawing enormous groups, including hot shot card sharks whose misfortunes assisted the club with paying the performers.
---
Recent Reviews
Date
Rating
Comments

We loved the Frank Sinatra show.
The gentleman singing was classy, timely, entertaining, charming.
He was the perfect man to sing Frank's many top songs. Love the show and would see it again.

Superb show, great cocktail service, wonderful venue.

Frankly Frank was a great walk down memory lane with this Sinatra tribute!

Performance was amazing. Venue, stage, sound, service all 5 star. Thoroughly enjoyed thank you

Great Job!! Gary is great!!
---
Frankly Frank Cast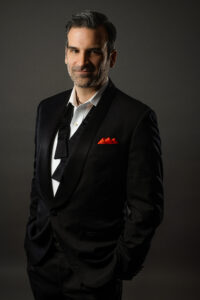 Ryan Baker
Ryan Baker, the exceptionally talented vocalist hailing from Long Island and now a proud resident of Las Vegas since 2003, is a name synonymous with the spirit of Frank Sinatra. With a career that sparkled under the glittering lights of the Entertainment Capital of the World, Baker began his journey as a Frank Sinatra tribute artist and went on to create and star in the sensational show "Shades of Sinatra," which even had the honor of opening for the legendary Don Rickles on not one, but two remarkable occasions. His enchanting performances have also graced the stages of various Rat Pack tribute shows, including "Drinkin', Singin', Swingin" and "The Rat Pack Is Back," currently captivating audiences at the Tuscany in Las Vegas.
In 2014, Ryan Baker's passion for jazz led him to record and co-produce his album, "Timeless Again," a collection of timeless jazz standards that debuted to critical acclaim and received widespread radio play. His magnetic stage presence and soulful voice have made him a regular fixture in the vibrant Vegas jazz scene, with unforgettable performances at esteemed venues such as the Dispensary Lounge and Maxan Jazz, as well as multiple appearances at New York's renowned Jazz at Kitano. Not only does he dazzle the audience with his vocal prowess, but Ryan is also the mastermind behind his show, "Big Band Crooners," a stunning tribute to legends like Sinatra, Bobby Darin, and Michael Bublé, all backed by a live 17-piece big band. Since its spectacular opening in 2018, "Big Band Crooners" has consistently played to sold-out crowds and garnered rave reviews, cementing Ryan Baker's status as an iconic figure in the world of timeless music and entertainment.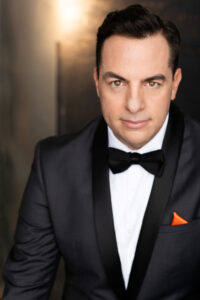 Michael Sinatra (Select Dates)
Introducing Michael Sinatra, the charismatic jazz sensation taking the stage in "Frankly Frank – An Intimate Tribute to Frank Sinatra." With a voice that evokes the golden era of music, Michael's velvety baritone transports audiences to a time when crooners reigned supreme. He pays homage to the timeless classics of the Great American Songbook, captivates with Rat Pack favorites, and spreads holiday cheer with beloved Christmas tunes, all while delivering a heartwarming tribute to the legendary Frank Sinatra.
Hailing from a family of multi-talented musicians, Michael's musical journey began at the tender age of 10, as a percussion prodigy. His evolution as a drummer and percussionist took him to stages with concert bands, symphony orchestras, and musical theater productions. Over the years, he seamlessly transitioned into singing and acting, gracing Italian dinner shows, intimate clubs, and theatrical productions. Michael's versatility and impressive musical background have solidified his place in the entertainment industry, where he continues to shine as a solo artist, recording and touring with jazz ensembles, and captivating audiences across the United States and Europe. Based in Las Vegas, Michael Sinatra's enchanting performances have left a trail of awe and applause in cities from Chicago to Orlando and everywhere in between.
See All Future Dates