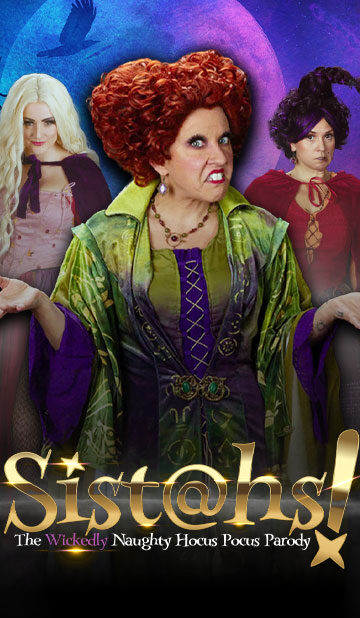 English

Wisteria Theater

All Ages

Athena

$99.95
About
Prepare for a bewitching evening of entertainment with "Sistahs! A Wickedly Naughty Hocus Pocus Parody."
This spellbinding extravaganza takes you on a thrilling journey through the mystical world of witches, magic, and mischief.
Our tantalizing cast of characters, inspired by the iconic Sanderson sisters, will have you cackling with delight as they brew up a wickedly naughty concoction of humor, music, and unforgettable performances. With their enchanting voices and mischievous charm, you won't be able to resist their wicked allure.
This not-so-typical Halloween treat is a playful and saucy twist on the beloved classic, "Hocus Pocus." Expect a night filled with sultry spells, toe-tapping tunes, and dazzling choreography that will leave you spellbound. Whether you're a fan of the original film or just looking for a wickedly good time, "Sistahs!" is the must-see musical parody of the season.
Don't miss your chance to experience the magic of "Sistahs!" Get your broomsticks ready, gather your coven, and immerse yourself in this enchanting spectacle that's sure to put a spell on you.
Book your tickets now and get ready to experience "Sistahs! A Wickedly Naughty Hocus Pocus Musical Parody" as you've never seen it before. This charming production will leave you howling with laughter and craving more, so don't wait—reserve your seats today!
---
About the Cast
Lexi Collins (Mary Sanderson, Musical Director), unicorn enthusiast and chicken fingers fanatic, is enchanted to be making her Vegas debut with Wisteria Theater. Lexi owns Wisteria Theater, a performing arts company she started in Los Angeles last year. Past credits include "Elle Woods" (Legally Blonde), "Kate Monster/Lucy" (Avenue Q), "Lisa" (MAMMA MIA), and The Polar Express Train Ride by Warner Brothers.
Renee Wylder (Sarah Sanderson, Artistic Director) is so excited to be making her Vegas debut! After 9 years of working on various projects in Los Angeles as an actress, she has been so lucky to spend the past year co-running a company and pursuing even bigger dreams with her best friend. Some previous LA credits: Vivienne (Legally Blonde), Cathy (Last 5 Years),

Pacific Conservatory Theater &  UC Irvine Alum. 

Thank you to Cory, Pete, and Daniel for believing in our show & a big special thanks to The Eisermans.
Renee Cohen (Winifred Sanderson) is brewing with gratitude for this mahhhvelous opportunity! Currently residing in Los Angeles, Renee has been doing theatre since age 4 and has always wanted to perform in Las Vegas. Her Sistahs asked Renee one random day about a year ago to dress up as Winifred (for the first time ever) for some photos and a kid's party…she never could've dreamed that would lead to all this! Credits include Rent (Maureen), Legally Blonde (Paulette), American Idiot (Whatsername), Jesus Christ Superstar (Mary), Pippin (Leading Player), Cabaret (Emcee), Hedwig and the Angry Inch (Yitzak), American Psycho (Evelyn) and Nunsense (Sister Hubert). When she is not casting spells, Renee owns and operates a pet-sitting business called Reneewalks.
Connor Bullock (Himself) is a warlock from Pasadena, CA, excited to be debuting in Vegas with this show! Previous credits include Princeton/Rod in "Avenue Q" (The Hollywood Majestic), Dennis Reynolds in "The Nightmare Cometh" (Patrynize Productions), and Demetrius in "A Midsummer Night's Dream" (Will & Co). He has also performed in improv comedy throughout New York, San Francisco, and Los Angeles.
Brayden Hade (Writer/Director/Screen Designer) is excited to premiere "Sistahs!" at Alexis Park. Previous credits with Wisteria are "Sistahs!," "Sistahs: Hoc-Mas Poc-mas" "Sistahs!: Valentine's Day," and "Sistahs!: A Pride Celebration." Los Angeles directing credits include "Avenue Q," "Legally Blonde," "Rent," at the Cupcake Theatre, "La Boheme," with VOPA, and "Rent," with TheatreSourceLA. Brayden is the founder and artistic director of TheatreSourceLA.
See All Future Dates