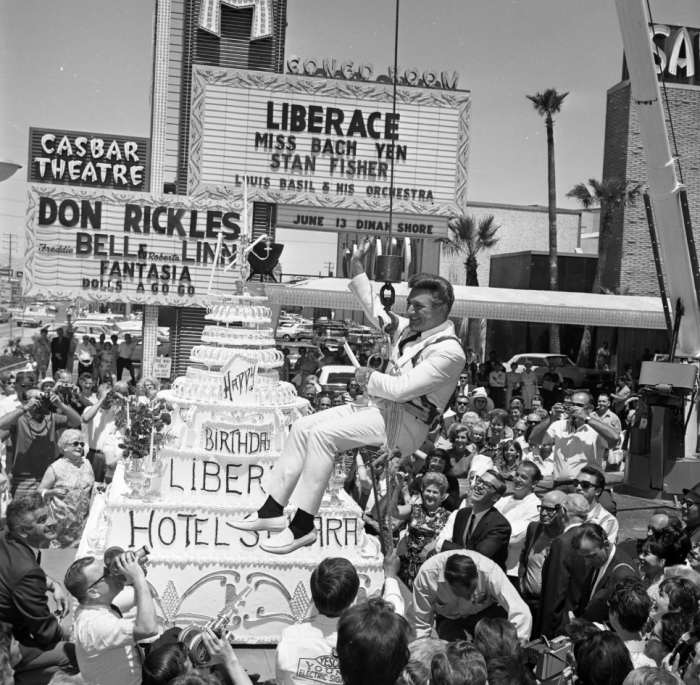 Las Vegas, NV – May 4, 2023 – The Liberace Foundation for the Performing and Creative Arts (www.liberace.org) is pleased to announce a celebration of Liberace's contributions to Las Vegas, the arts community, and pop culture with a charity benefit on May 17th, 2023.
On May 17th, Perez Hilton will be the Master of Ceremonies for the official Liberace 104th Birthday Benefit hosted by The Liberace Foundation for The Performing and Creative Arts.
Liberace's Birthday celebration will kick off with an unforgettable red carpet starting at 6:30 pm with Cars and Champagne. A ticketed event inside The Modern Showrooms at Alexis Park will follow the red carpet.
A cavalcade of entertainers will take the stage inside The Modern Showrooms throughout this VIP evening. Extraordinary artifacts will be evident from the moment guests arrive. A celebrity guest list is expected to be joined by members of The Liberace Foundation board of directors for what will be a memorable night.
"Liberace and Perez Hilton just makes sense! I am honored and thrilled to be a small part of a big evening celebrating the even bigger personality that was Władziu Valentino. I am so happy that the Liberace Foundation is keeping his legacy alive in the best way possible – by helping other artists! I am even happier that Las Vegas has named a street named after him and that I am now a local! I love living here, and we have lots to celebrate, watch and enjoy on May 17th." said Perez Hilton.
Tickets for the Liberace 104th Birthday Benefit with Master of Ceremonies Perez Hilton can be purchased at www.modernvegas.com/liberace104.
"We are very excited to be celebrating the legacy of Liberace and the mark he made on Las Vegas, pop culture, and the world at the only official Birthday celebration hosted by Perez Hilton." said Jonathan Warren, Chairman of The Liberace Foundation.
Event ticket holders for the event on the 17th are also the exclusive invitees to the soft opening of the historic Liberace's Tivoli Garden restaurant and bar the evening of May 16th, hosted by Susan Liberace, Jonathan Warren and members of the Board of Directors, along with restaurant designer Paulina Biggs Sparkuhl and restaurant owner Sacbe Meling.
About The Liberace Foundation for the Performing and Creative Arts
The Liberace Foundation for the Performing and Creative Arts was founded by Liberace himself in Las Vegas in 1976.  The not-for-profit organization owns and licenses the Liberace name, likeness, and other intellectual property, as well as exhibits the Liberace Museum Collection worldwide in support of the arts.